Reasons to be Cheerful
By Issy Goode - 13:58
I haven't joined in on R2BC in such a long time and I have a lot to be cheerful at this moment in time!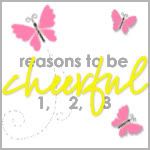 Firstly, it's my birthday in a few days time and I'm going to be nineteen years of age, how it's gone so fast I do not know. I'm sure my parents are thinking the exact same thing though! In all honesty I had enough of a shock when my niece turned 5 earlier this year, where did the time go when she arrived at my house and slept so quietly in the moses basket whilst our dog Dipstick got weirdly jealous of all the attention the new baby was getting. It doesn't even feel right that it's March 2013...I swear I only started Keele a matter of moments ago?
Secondly, it's almost time to go back home! I pined a little more for Cornwall this semester than last, maybe because of the small glimmers of sunshine make me think of the beach and with Easter approaching my friends and I would all usually be preparing ourselves to kill some time in the spring sunshine, and with me (quite happily) not needed back at Sainsbury's for this holiday, that is exactly what I shall be doing! I'm really looking forward to seeing my family, spend some time with my sister, Jay and the kids, and have some late birthday celebrations with the family!
I have a visitor! My best friend Charlie is on her way up here on Thursday at almost midnight and I'm so happy to have her here for my birthday, it wouldn't be the same without the most painful of birthday beats and a crude birthday card.
The short papers are almost done! Short papers are just a pain, they're close readings but the issues you want to discuss are too big, and you sometimes can't find enough to say to fill the 1000 word (tiny) word count, but then other times you can't stop yourself going over! However, with the short papers finishing, it means the long essays are on the horizon.