Reasons to Be Cheerful - First of 2013
By Issy Goode - 13:47
My Sister,
CupcakeMumma
, joins in with Mummy From the Heart's Reasons to be Cheerful almost every week and I thought it was about time I jumped on the bloghop, especially as I've got plenty to be cheerful for this week!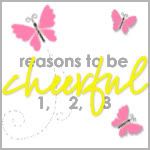 To start with, I'm getting my first tattoo tomorrow! It's taken me a while to actually book myself in, longer than some might think. I've wanted a tattoo since my 18th birthday but a few things held me back from getting one, but after tomorrow there's no going back! I'll be posting up a picture for you all to see tomorrow, so look out for it.
This week I've been catching up with all my friends, I've made up with one of my best friends who I fell out with over the summer and I had a really good evening with her, I've also seen my ex boyfriend (I shall be calling him a friend from now on too) and we had a good catch up - in fact it was so easy seeing him as just a friend. I'm also spending the evening with my sister tomorrow which is always lovely.
I'm making my way back up to Keele on Sunday - in the early hours of the morning - and I'm really excited to get back and see my block again! I have got plenty of work to be getting on with, but nonetheless I'm keen to get back.
Lastly, it's the new year! No nothing really changes but, I always notice that a majority of people are happy and positive at the start of the year so it's always good to see everyone cheerful! Fingers crossed that people stay just as happy for the rest of the year!
Feel free to join in the bloghop and share your reason's to be cheerful!